MACEDONIA EASED BY CURB ON I.M.R.O. - New York Times, 26.08.1934
Изпратено от admin on Вт., 10/11/2020 - 09:07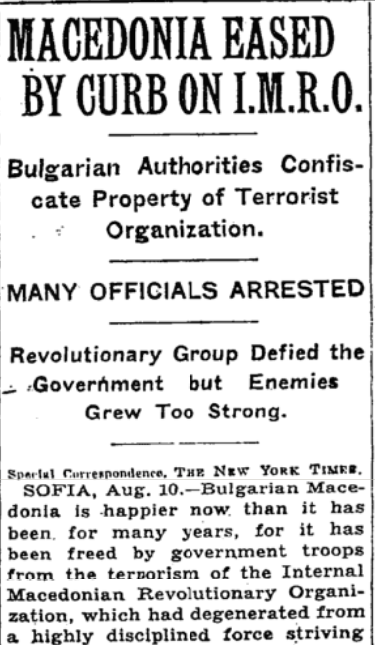 Описанието в дигиталния архив на NYT: MACEDONIA EASED BY CURB ON I.M.R.O.
Bulgarian Authorities Confiscate Property of Terrorist Organization. MANY OFFICIALS ARRESTED Revolutionary Group Defied the Government but Enemies Grew Too Strong.
SOFIA, Aug. 10. — Bulgarian Macedonia is happier now than it has been for many years, for it has been freed by government troops from the terrorism of the Internal Macedonian Revolutionary Organization, which had degenerated from a highly disciplined force striving for Macedonian liberty into a confederation of gangsters.
Special Correspondence, THE NEW YORK TIMES.
PUBLISH DATE
August 26, 1934
PAGE NUMBER
56
SUBJECTS
Macedonians